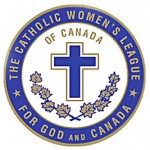 The Catholic Women's League (CWL) is a national organization rooted in gospel values, calling its members to holiness through service to all of God's people. All Catholic women age 16 and older are most welcome.
The CWL at Our Lady of Lourdes began in 1953 and currently has 89 members.
The membership fee for 2020 will be $30.00. 
Events are usually held on the last Thursday of each month and are always well-received by our members. They combine informative talks on current issues with enjoyable, fun-filled social times.  The events are noted in the church bulletin prior to the date.
If you wish to become a member or just want to see what the next meeting offers, please call Patrycja Wiecek, president of our CWL. She would love to chat with you anytime: ourladyoflourdescwl@gmail.com
Executive
President – Patrycja Wiecek 
Past-president – Peggy Dietrich
Secretary –  Mladenka Raos
Organization/membership – Halina Szczepaniak
Communications – Sheila D'Aguilar
Treasurer – Joan Hergott
Spiritual Director – Therese Lee
Community –
Christian Family Life –